Always, always, always bring your second place models and reserve champions up for a callback.
People will tell you that judges only look at first place and championship horses when picking champs and overall.

I couldn't disagree more!

As a judge, I want to pick the two best horses at the show for my overall champ and reserve.

So what if they were in the same class or section?
However, a judge won't skip over a first place or champ horse to do this. If they decided one horse was better than another within a class or section, they shouldn't change their mind during a callback. A judge can only pick a second place or reserve horse for reserve or overall reserve and then only if the first place or champ horse that beat it wins champ or overall champ.
Clear as mud, right? As an example, let's say I'm judging the Stock horse section callback. I'm torn between four horses: the first and second place paints and the first and second place mustangs. I like them all and would love to give them all rosettes (the big fluffy ribbons.) If I want, I can choose the first and second paints as champ and reserve respectively. I could do the same for the first and second place mustangs. However, if I chose the first place paint for champ, I cannot choose the second place mustang (or vice versa.)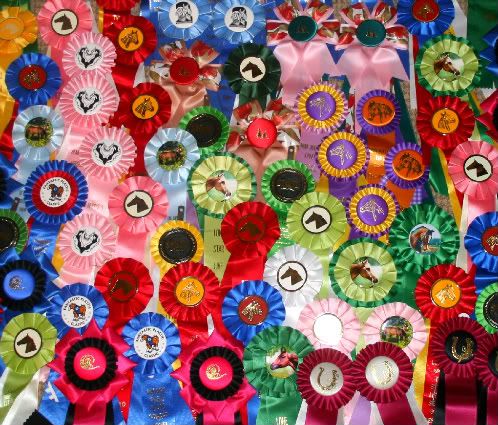 Fluffy!
Performance champs are usually a little different. Many judges choose overall and reserve based on points. Because performance horses show in several classes, they could have won several of each type of ribbon. Each place (1st, 2nd, 3rd on down) is assigned a point value with more points won for higher placings. The judge counts each horse's points then awards champ and reserve to the first and second highest point totals.
Yesterday I mentioned that workmanship and collectibility are sometimes sections within a division. In this case, a judge may also choose their overall champ and reserve based on points. If a few horses stood out--winning both their green and yellow card sections--the judge will pick between them. Showers like this system because it is perceived to be more "fair" and shows that the judges has been consistent in her decisions throughout the day.